CREATE MAGIC MOMENTS WITH OUR CUTE AND CUDDLY MINI PETS
What to expect from a Magical Mini Pets Party
We bring out a small enclosure for our animals, and in a safe and controlled environment children can get up close and personal with our pets.
You can invite us along to simply provide a fun and interactive environment for your children at a private birthday party or public event, or we can add an educational touch for schools, kinders and community groups.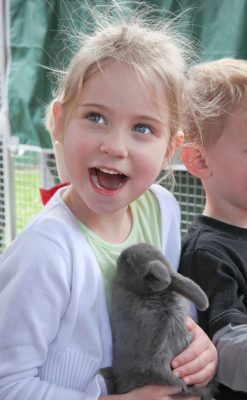 Mini Pets Animals include: Rabbits, Guinea Pigs & Chicks
Our baby bunnies, guinea pigs and silky chicks will delight your guests when they attend your function. You won't need a lot of space for the Mini Pets, but you will need a camera to capture all the happy faces.
Enjoy learning about the RSPCA's Five Freedoms for Animals while holding a bunny in a basket!
AOTM Mini Pets Party Pricing
$330
FIRST HOUR

JANUARY
FEBRUARY
MAY
JUNE
JULY
AUGUST
SEPTEMBER
$363
FIRST HOUR

MARCH
APRIL
OCTOBER
 NOVEMBER
DECEMBER
ADDITIONAL HOURS $150 /HR
All Weekends and School Holidays Charged at Peak Rates. Public Holiday pricing available upon request.
Bookings can be made online by pressing the button below or by calling our office
Phone 1300 760 354 
$100 Deposit must be made at the time of booking
RECOMMENDED AGE:
SUITABLE FOR ALL AGES
---
LOCATION:
WE BRING THE ANIMALS TO YOU!
---
---
The Mini Pets Program teaches children, how to interact with animals in an appropriate way, by allowing them to hold the animals while being supervised by an animal carer.
Our Mini Pets Program is versatile and is suitable for both young and old. It is a favourite for birthday parties, in Child Care Centres and great for Pet Therapy at Aged Care facilities. Minimal space is required for the set up, which makes it great for any type of event. With an educational or therapeutic focus, or to entertain for a family fun event, the Mini Pets offers an affordable animal encounter for all ages to share and enjoy.
Mini Pets & Early Learning
---
---
Our focus on Science Foundations & complimenting the Australian School Curriculum.
Mini Pets Objective:
To identify and describe animals commonly found as pets and also to investigate and report the use of animals in our daily lives.
---
What age group best suits the Mini Pets Program:
Preschool, Kindergarten, Child Care & Primary School Education from Foundation to Year 6. But, don't worry, the information & interaction can be enjoyed by all ages.
Please remember when you are planning your event we require:
1. Close access to set-up area (no more than 30m distance from our vehicle)
2. Clear access from our vehicle to set-up area (no obstacles, stairs, lifts, steep slopes, etc)
3. For safety reasons we appreciate assistance in keeping curious onlookers at a safe distance until set-up is complete.
4. Access to water for the animals.