AOTM Milking Demonstrations
---
Learn about what the cow has to offer and why they are such an important part of our community.
BOOK NOW
---
Children meet Crystal the cow and are shown how to milk a cow the old fashioned way.
---
Connector.

Children learn the importance of cows in our every day lives

Connector.

Children get to milk the cow themselves!

Connector.

Explain the process of how products get from the farm to the supermarket

Connector.

Children then learn, through experimenting with different methods, how to make cream into butter and finally….taste test!
---
AOTM Milking Demo 2018 Pricing
Off Peak
$550
For 2 sessions
January
February
May
1st June till 29th June
16th July till 31th July
August
1st September till 21st September
Book Now!
Peak
$594
For 2 sessions
March
April
30th June TILL 15th July
22nd September till 30th September
October
November
Decemberr
Book Now!
All Weekends Charged at Peak Rates
Public Holiday Rates available on request.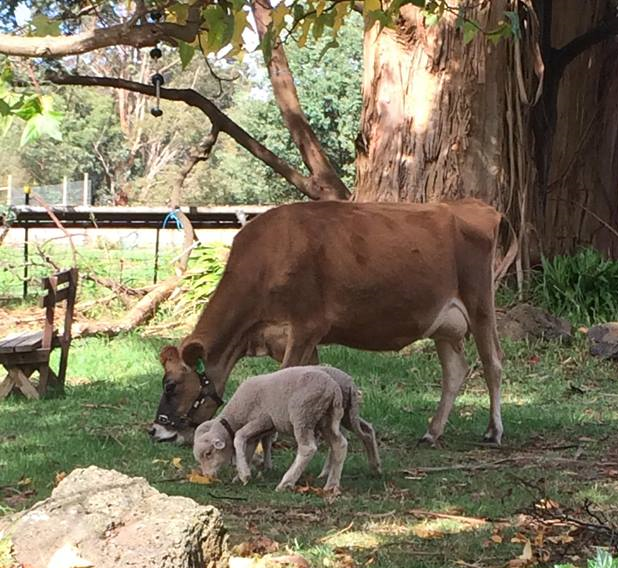 Bookings can be made by
calling the office at the farm
Ph 1300 760 354
$100 Deposit must be made at the time of booking
BOOK NOW
---
RECOMMENDED AGE:
SUITABLE FOR ALL AGES
---
LOCATION:
WE BRING THE ANIMALS TO YOU!
---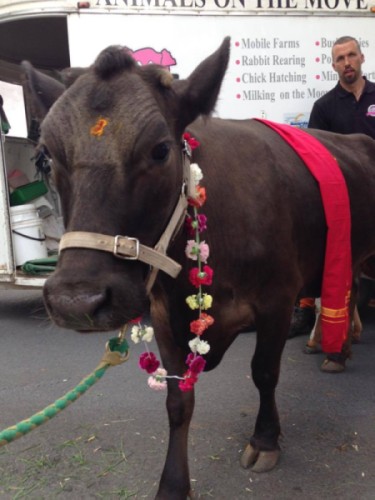 What to expect from a
AOTM Milking on the Moove
---
---
A 3m x 3m enclosure is set up for the cow and a 2.5m x 1m trestle table for the separator, churner and the butter making equipment. The trestle table can be set up indoors or out and is thoughtfully laid out so that all the children can enjoy the experience.
---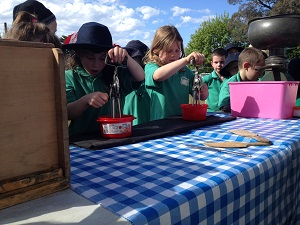 We also offer Traditional House Warming or Blessings,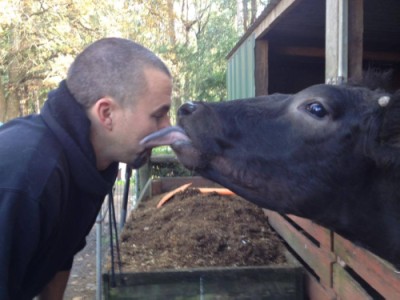 Who we bringing to Milking on the Moove:
---
What We Bring:
1 x Trestle table (2.5mx1m) for butter making
1 x Separator – to explain how to separate milk into cream
1 x Butter Churn- to make butter
1 x Egg Beaters & plastic tubs-to make butter
2 x Plastic jars & Marbles – to make butter
1 x shade tent 3m X 3m (if required)
1 x Tarp (if required)
1 x Cow Fenced Enclosure.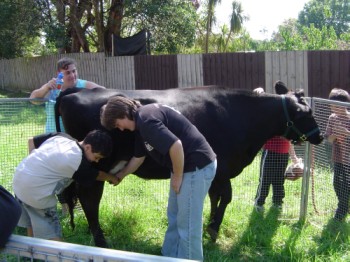 AOTM Milking on the Moove Learning
---
Children & Students will gain an understanding of where milk comes from and the process that turns grass into milk. Learn about dairy farms, the structural and external features of a cow and how to hand milk. Discover how much milk a cow produces each day and the type and amount of pasture it consumes. Learn how everyday materials can be physically changed in a variety of ways by separating the milk from the cream and butter making.
Questions We Explore
What products are made from milk?
What do cows need to make milk?
How does the milk get from a cow to your fridge?
How many people drink milk daily?
How does milk make our bodies healthy?
What age group best suits Milking on the Moove
Preschool, Kindergarten, Child Care & Primary School Education from Foundation to Year 2. But!
The information & interaction can be enjoyed by all ages.
Little kids (as well as the grownups!) love the chance to milk a cow! We offer young children the chance to finally hand milk a cow the old fashioned way!
Primary school children will love the opportunity to get up close and personal with our friendly cow! The program fits in perfectly with the school curriculum, and can be a great teaching aid. Allowing the children to be hands on helps to develop their interest in animals, and this can be translated well to the classroom. Why not combine the Milking On The Moove encounter with the Farmyard for the perfect educational experience? Our Milking On The Move experience is perfect for science and agriculture classes, allowing students to milk a cow and make butter. Our hands on approach to learning will ensure that it is a class to remember! Our staff can teach the students about the unique features of a cow and the role they play in our daily lives.
Why not invite all your friends to a Milking on the Moove demonstration?
We offer the whole experience you can even play our "Pin the Tail on the Piggy" game!
The Milking on the Move can be a fun experience for all ages, and is guaranteed to leave people talking about your event!
(Just remember that Choco drinks a bath tub full of water everyday and that has to go somewhere…. so inside is suggested against!!)
The Milking on the Move can offer a great experience for the elderly. Whether it's reliving their childhood or doing something new, Choco is always a hit.
Please remember when you are planning your event we require:
---
---
1. Close access to set-up area (no more than 30m distance from our vehicle)
2. Clear access from our vehicle to set-up area (no obstacles, stairs, lifts, steep slopes, etc)
3. For safety reasons we appreciate assistance in keeping curious onlookers at a safe distance until set-up is complete.
4. Access to water for the animals.
---
Behind & beyond the scenes
LATEST FROM THE BLOG
---
When you visit our blog, you'll meet animals, discover interesting knowledge & farmyard insights, immerse yourself in animal education, and get to know the people who keep Animals On The Move completely focused on a love and education of all things animal.